Dry Ice Blasting Machine
An Eco-Friendly Way to Clean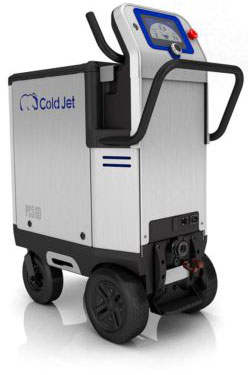 The Cold Jet AERO40FP dry ice blasting machine, available for rental or purchase from Irish Carbonic, is an economical and eco-friendly method for cleaning and surface preparation.
This dry ice blaster uses recycled solid carbon dioxide (CO2) pellets known as MicroParticles. These are emitted at rapid speeds and sublimate on impact, removing dirt and contaminants from surfaces.
Why a Dry Ice Blaster?
Using a dry ice blaster does not create secondary waste streams or use one of the most precious resources: water. This method is:
non-abrasive
non-conductive
non-toxic
non-flammable
chemical-free
water-free
Uses and Applications
Dry ice blasting is commonly used in industries such as these:
aerospace and aviation
automotive
contact cleaning
food & beverage
plastics & composites
restoration
textiles
Common applications within these industries include:
adhesive removal
asphalt removal
automotive restoration
coatings and corrosion removal
coffee roaster cleaning
compositive tool cleaning
core box cleaning
general equipment cleaning
historical restoration
mold remediation
nonwoven die cleaning
parts finishing
surface preparation
weld line cleaning
Dry Ice Blaster Safety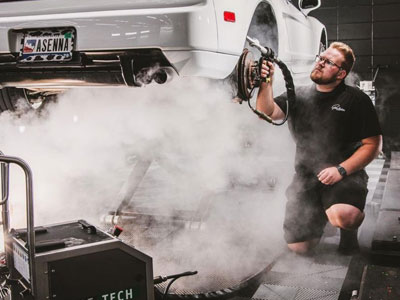 Because this type of blasting involves the use of dry ice, there are specific safety precautions that should be followed to ensure all of your employees remain safe. Key precautions include:
ensuring proper ventilation
limiting exposure
identifying and labeling areas where it is possible for CO2 to accumulate
wearing and utilizing proper PPE such as gloves, eyewear, and tongs
To learn more about CO2 and dry ice safety, please read these safety tips, courtesy of Cold Jet.
About our Cold Jet Aero 40FP Dry Ice Blasting Machine
Cold Jet's mid-level machine, the Aero 40FP, is a full pressure dry ice cleaning system that includes an advanced radial feeding system. It has been aerodynamically improved to reduce wear and provide precision pulse-free feed rate control.
The Aero 40FP has a compact motor that reduces weight and lowers power consumption over previous Aero 40 versions. The Aero 40FP also comes with standard features, previously only available as upcharges, like the panel mounted blast pressure regulator and 250 psi maximum blast pressure to maximize your cleaning capabilities.
This upgraded design also allows users to blast at pressures as low as 20 psi and use an optional precision kit with the i3 MicroClean applicator, blast hose, and nozzles for precision applications.
Cold Jet Aero 40FP Benefits
Benefits of using the Cold Jet Aero 40FP from Irish Carbonic include:
full range of pressure
reliable pellet flow
minimized sublimation
minimal air/dry ice usage
easy to maintain
safe operation
rugged and mobile
most advanced nozzles
ESD (static control)
precision set available to use MicroClean® i3 gun and nozzles
Aero 40FP Dry Ice Blasting Machine Specifications
length: 36"
width: 20"
height: 40"
weight: 257 lbs.
hopper capacity: 40 lbs.
hopper type: isolated, insulated
agitation: performance; thumper, ramrods
feeder: advanced radial feeder
rotor: enhanced, coated steel
blast pressure regulator
dry ice consumption: 0 – 4.5 lbs./min, adjustable
supply air pressure: 65 – 250 psi
blast pressure range: 20 – 250 psi
nozzle air consumption range: 50 – 165 cfm at 80 psi
compressed air connection: 1″ npt
power consumption: 1/4 hp, ac motor, 1.750 rpm
Contact Us about Our Dry Ice Blasting Rental
Just like all other areas of our business, you can depend on Irish Carbonic for product excellence and superior customer service and support. Please contact us today for further details about a dry ice blasting rental or purchase.